People who buy well-made chainsaws from trusted brands usually spend hundreds of dollars, so they can be forgiven for reacting with shock and horror when they find their new power tools sitting in a pool of oil after just an hour or two of use. Customer service representatives at companies like Stihl, Husqvarna, and Makita receive thousands of angry calls each year from consumers complaining about defective products, but those claims are rarely justified because most chainsaw "oil leaks" aren't oil leaks at all.
If you are reading this post because you think your expensive new chainsaw is leaking oil, you probably have nothing to worry about. We will explain how chainsaw lubrication systems work and why oil will drip from saws after use, even if they are working perfectly. We will also give you a few tips that could help you to avoid oil mishaps in the future.
How a Chainsaw Lubrication System Works
A modern chainsaw's bar and chain lubrication system performs a very important job. Chainsaws are powerful and extremely capable tools, but buildup of heat and friction can make them unwieldy and potentially dangerous. Proper chain and bar lubrication prevents damage and makes chainsaws last longer, and it also improves their safety and performance.
Tanks, Pumps, and Tubes
The chain and bar lubrication system has three major components. The first of these is a tank that is designed to hold enough chainsaw bar oil for prolonged use. In addition to a filler cap, the oil tank has a valve that allows air to be drawn in when oil is pumped out. It maintains positive oil pressure and ensures that the bar receives adequate lubrication at startup. This reduces wear because chains that receive oil as soon as they begin to move tend to last longer. If breather valves did not allow air into the system, a vacuum would develop, and oil flow would slow or stop.
Chainsaw oil pumps are tasked with delivering a steady flow of oil into the groove along the edge of the guide bar. The pumps in small chainsaws deliver between 8 and 20 milliliters of oil per minute, but the largest saws have lubrication systems that pump out as much as 50 milliliters of oil per minute. This oil is transported from the pump to the guide bar in durable plastic tubes.
Chainsaw Bar and Chain Oil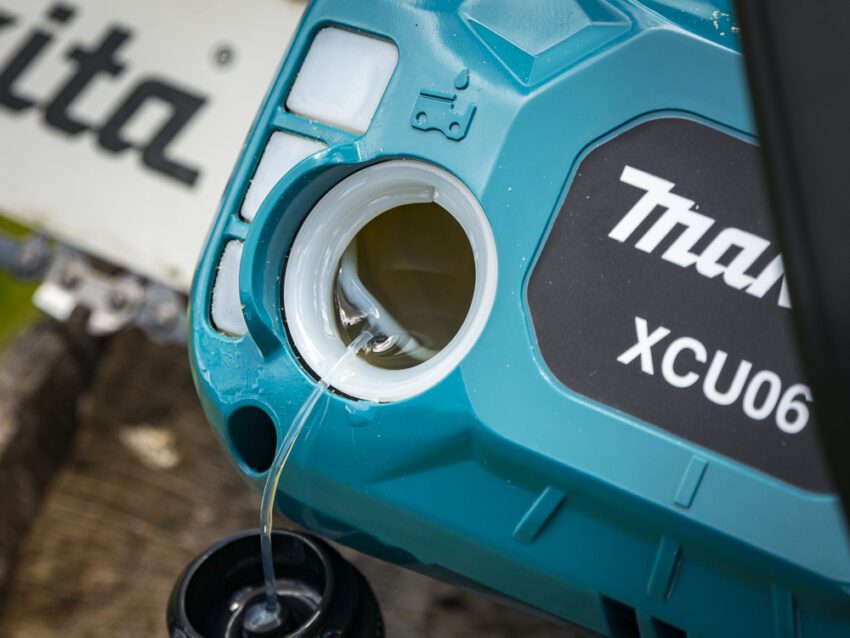 Gas-powered chainsaws use two kinds of oil. Their two-stroke engines run on a mixture of gasoline and oil, which also cools and lubricates the piston and other internal parts. Standard motor oil is mixed with gasoline to fuel chainsaw engines but is not used to lubricate the bar and chain. There are several oil formulations available that have been specially engineered to lubricate bars and chains, but many people use vegetable oil instead to save money. They do this because chainsaws go through so much oil, but it can be a mistake.
The chain and bar oil offered by chainsaw manufacturers and companies like STP contain additives that improve cooling and prevent corrosion, and they are also formulated to be extremely tacky. Tackiness is important because chains spin at a very high speed, which can throw thinner oil off before it has had a chance to do its job. People who use cooking oil to lubricate their chainsaws have to accept whatever formula is available at supermarkets and grocery stores, but consumers who use specially formulated bar and chain oil can select from a range of viscosities. Oil flows more freely in warm environments and more slowly in cold ones, so being able to choose higher or lower viscosity oils is a real benefit for people who live in parts of the country that experience extreme temperatures.
Sale
Bestseller No. 1
Why Does My Chainsaw Leak Bar Oil?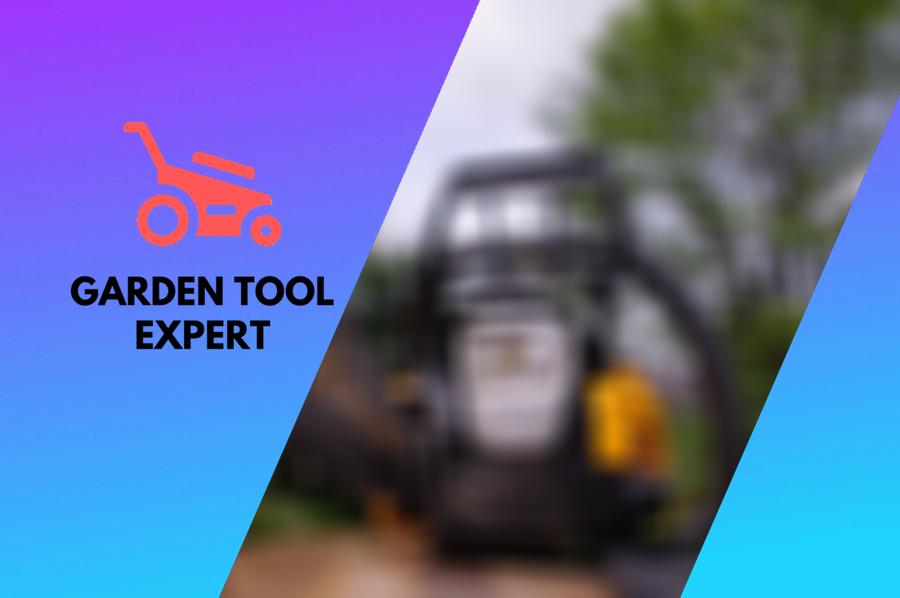 Pools of oil under mechanical objects are usually signs of a lubrication leak, but that is not the case with chainsaws. If you notice pools of oil when you pick up a chainsaw that has been sitting idle for a day or two, they were probably caused by something other than an oil leak. Let's look at some of the most common causes of chainsaw oil puddles.
Overfilling the oil tank: Pouring too much chain and bar lubricant into the oil reservoir is one of the most common causes of chainsaw oil leak false alarms. Chainsaws use a lot of oil, so there is a strong temptation to fill them with as much lubricant as possible every time they are used. Overfilled oil tanks can leak lubricant at startup and leave puddles on the garage or workshop floors, but this is a problem that can be easily avoided because the reservoirs on most chainsaws have markings to indicate the minimum and maximum oil levels.
Oil dripping from the guide bar: Your chainsaw's lubrication system pumps oil along a groove in the guide bar. When you turn the saw off, any oil remaining on the guide bar will gradually be guided by gravity to the bottom of the saw. If you want to prevent this, remove the chain, and wipe the guide bar down with a dry cloth before storing the saw.
Oil gathering in recesses: When saw chains pass under the clutch cover and around the sprocket, some of their lubricating oil is thrown off. This oil accumulates in grooves and recesses, and it sometimes drips onto the floor. This is completely normal, and there is not really much you can do about it.
Oil droplet formation: Chains emit a fine mist of oil when they move at high speeds, and this mist then coalesces into larger droplets. These droplets fall onto saws and accumulate in nooks and crannies, and they can leave behind a mess that looks an awful lot like an oil leak.
Running without cutting: New chainsaw owners are often anxious to see what their new tools can do, which sometimes leads them to run their saws without actually cutting anything. The oil mist that forms around moving saw chains is usually absorbed by sawdust or other workplace debris, but there is nothing to prevent this mist from forming droplets when no cutting is done. If you run your chainsaw for more than a few seconds without cutting anything, you can expect to find it sitting in a small puddle of oil the next day.
Oil Tank Breathing Systems
The breather valves that chainsaw manufacturers use allow air to be drawn into the oil tank to maintain positive pressure, but they do not allow air to escape. This ensures lubricant flows smoothly and can prevent premature wear, but it is also a common cause of oil leaks. The valves are needed because allowing oil tanks to vent directly into the atmosphere would create a serious safety hazard. But trapping air and allowing pressure to build create a different kind of problem.
Apparent oil leaks that are actually caused by breather valves working properly are especially common in parts of the country where the days are hot and the nights are cold. In these environments, fluctuating temperatures cause the air pressure inside a lubricant reservoir to rise and fall, which can result in oil pumping even when chainsaws are not in use. The air and oil inside the reservoir contract in cold weather and take up less space, but the pressure remains equalized because the one-way valve allows air to enter and occupy the now empty space. The air and oil in the tank heat up and expand during the day when temperatures climb, which causes pressure to rise as the valve prevents air from escaping.
This buildup of pressure forces a small amount of oil out and onto the guide bar, and that oil has to go somewhere. When chainsaws are left unattended for days or weeks in areas with both hot and cold weather, this temperature-related pressure and pumping cycle can drain oil tanks completely and leave a large mess. If you live in one of these areas, storing your chainsaw properly is the best way to avoid this problem.
Storing a Chainsaw Properly
Storing your chainsaw properly will prolong its life and keep oil spills to a minimum. Chainsaws should be drained of gas and oil prior to being stored and topped up before use. If you have to store your saw with lubricant in the tank, lay it on its side with the oil cap facing upward and slightly open. Opening the cap just a little will allow air to escape and prevent the pressure that can force oil onto the guide bar. If you do this, don't forget to tighten the cap back up again before you use the saw, or you will have a huge mess on your hands. A lot of chainsaw owners forget to do this, but it is a mistake they rarely make twice.
Storing a chainsaw with its guide bar slightly raised is a great way to minimize the mess caused by dripping oil. Raising the bar gives gravity more to work with, which forces oil residue on the chain and bar to the lowest part of the saw. This means all of the oil residues flow to the same place, which is a good thing because it makes cleanup a lot easier. If you place your saw in the same position every time with a piece of paper or cardboard underneath it, you will soon notice the exact place where the oil is dripping from. All you have to do then is place a small container in this spot whenever you store your saw.
Bestseller No. 1
Drymate XL Oil Spill Mat (36" x 59"), Premium Absorbent Oil Pad, Reusable, Washable, Durable, Waterproof Backing Contains Liquids, Protects Garage Floor Surface (USA Made)
ABSORBENT MATERIAL TRAPS SPILLS, (PROTECTS SURFACE): The Drymate Oil Spill Mat traps and contains the mess! Patented Drymate material absorbs and contains liquids and wicks away moisture. Our mat is designed to protect your garage floor surface from costly stains.
WATERPROOF BACKING, SLIP-RESISTANT: The waterproof layer stops motor oil, brake fluid, gasoline, coolant, and prevents these liquids from soaking through to damage or stain the surface below. The slip-resistant backing helps keep the mat in place.
DURABLE AND REUSABLE: Our mat is made out of an absorbent polyester fiber and is able to contain any oil spill! This material is reusable and extremely durable. Our oil spill mat provides an eco-friendly option compared to disposable oil mats.
EASY TO CLEAN: When your mat gets dirty, simply scrub with soap, hose off and hang dry. Do not bleach.
(MADE IN THE USA) MADE FROM RECYCLED MATERIAL: The absorbent top layer of our mat consists of a non-woven polyester fabric and is made from over 50% recycled fibers. The bottom layer features a liquid bonded waterproof backing made from polyolefin. Phthalate & BPA free.
What if I Really Do Have an Oil Leak?
If storing your chainsaw properly and cleaning it regularly does not put an end to oil puddles on the floor, you may actually have a leak. Chainsaw lubrication systems are quite basic and only contain a few key components, so finding the cause of oil leaks is rarely a challenge. If you are convinced that your chainsaw is leaking oil, here are some of the things to check:
The tank filler cap: Filler caps that look fine at first glance sometimes have faulty or broken seals. If you suspect an oil leak, the tank filler cap is one of the first things to check.
The oiling line: The plastic tubes that transport lubricant from the oil pump to the guide bar are quite robust, but they can be damaged during routine maintenance. Check them carefully for cracks and holes before ruling them out as the cause of an oil leak.
Clutch and sprocket outlets: Sawdust and other debris can clog up the oil outlets around the sprocket and clutch. Check your owner's manual to find out where these outlets are, and then inspect and clean them regularly.
The oil tank vent: The breather valves that allow small amounts of air into the oil tank to maintain pressure have tiny holes in them. These holes can be clogged by the sawdust and debris that is often thick in the air when chainsaws are used, so checking them is important. If breather valves become clogged, oil flow to the guide bar and chain may be impeded or stopped.
The oil pump: Chainsaw oil pumps are simple devices that rarely cause problems, but the gaskets that prevent oil from escaping from them can wear out or be damaged. This is unlikely to be the cause of a large oil leak, but it is something that should be checked.
Making the Most of Your Chainsaw
Seeing a pool of oil under a new chainsaw is a cause for concern, but these spills are rarely caused by oil leaks. The oil that cools and lubricates a fast-moving chain can wind up in all sorts of places, and this oil then forms into beads that drip into pools. These problems can be minimized by storing chainsaws properly and following the manufacturer's recommendations. Also, it's best to stick with lubricants that have been specially formulated for chainsaws. ChainsawSelector is dedicated to helping you get the most out of your chainsaw, which is why we often post safety and maintenance articles like this one.