Why Choose STIHL?
The STIHL name has been a byword for innovation for more than eight decades, and the company's rise to the top of its industry has been fueled by revolutionary technology and groundbreaking ideas instead of slick marketing campaigns and clever slogans. Every chainsaw in the world has technology and features that were pioneered by STIHL, and the company's products are now trusted by professionals in more than 160 countries. STIHL is the world's leading chainsaw brand, and its 370 engineers and designers are working hard to make sure that the company remains one of the most respected names in power tools.
History
Like many global companies, STIHL's story began with a visionary idea. That spark of inspiration set a chain of events into motion that changed the way work is done and gave rise to an industry giant. Let's take a look at that idea and the company that grew from it.
Founding and Milestones
The company that makes the world's most powerful and durable chainsaws was founded by Andreas Stihl in 1926. That was when Stihl obtained a patent for the world's first electric chainsaw, but it was a far cry from the machines in use today. Stihl's Cutoff Chainsaw for Electric Power weighed almost 150 pounds and required two people to operate, but it still represented a paradigm shift. Stihl followed up his industry-changing idea with the first gasoline-powered chainsaw in 1929 and the first chainsaw that could be operated by one person in 1930. STIHL is still a family-owned company and is still headquartered in the former paper mill that its founder bought in 1938, but it now employs almost 8,000 people and has more than 35,000 dealers around the world.
If you have ever used a chainsaw and marveled at how safe and effective these machines have become, your admiration should be directed at Andreas Stihl and the company he founded. Stihl is widely known as the "father of the chainsaw," and one look at his company's long list of innovations will tell you why. STIHL's impressive catalog of industry breakthroughs include:
Automatic oiling: STIHL introduced the first chainsaw with a system to automatically lubricate the chain and guard in 1934.
Centrifugal clutches: STIHL augmented its automatic oiling system in 1936 with a centrifugal clutch that automatically advanced the chain when engine speed increased.
Anti-vibration systems: Using chainsaws became a lot more comfortable in 1964 when STIHL introduced the first saw with an anti-vibration handle, and the company improved comfort for chainsaw users again in 2005 when it developed a spring-loaded system to dampen vibrations.
Electronic ignitions: The first chainsaw with an electronic ignition system was unveiled by STIHL in 1968.
Chain brakes: Chain brakes are considered a safety must on chainsaws today, but they were unheard of until STIHL pioneered the technology in 1972.
Handle controls: Chainsaws became far more ergonomically friendly in 1976 when STIHL introduced a saw with its master control lever mounted on the handle.
Cleaner engines: Chainsaws used to burn copious amounts of oil and belch toxic fumes into the environment, but they now run cleanly and efficiently thanks to STIHL innovations like the Ematic Bar Lubrication System and the 4-MIX engine.
Two-finger pull starts: STIHL took the elbow grease out of starting a chainsaw in 2003 when it unveiled the ErgoStart system. Placing an extra spring between the starter rope and crankshaft may seem like a simple idea, but it made pull-starts using only two fingers possible.
Comfort chains: STIHL constantly works to improve chains as well as the machines that power them. In 2003, the company introduced a comfort saw chain with an improved cutter that absorbs shocks when it enters the wood. This reduced vibrations by up to 40%.
Carbide-tipped chains: STIHL introduced the first carbide-tipped saw chain in 2010. The Picco Duro chain stays sharp up to four times longer than traditional chains.
Production and Manufacturing
STIHL originally manufactured a small line of chainsaws in Germany, but the company's product line and manufacturing footprint have grown significantly in recent decades. STIHL now operates production facilities in Switzerland, Austria, the United States, Brazil, and China as well as Germany, and the company's product range has grown to include trimmers, blowers, edgers, sprayers, and augers in addition to chainsaws.
Products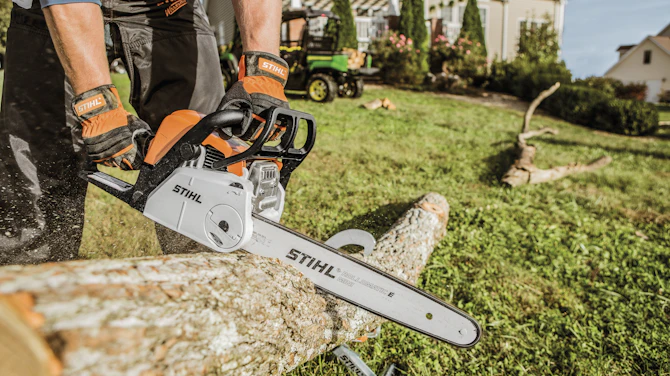 Chainsaws are still the foundation of the STIHL product lineup. STIHL gas chainsaws are used around the world by professionals who rely on their tools because they combine state-of-the-art technology with optimum ergonomics and industry-leading performance. STIHL battery chainsaws have been added to the company's legendary gas and electric models in recent years, and they have quickly developed a reputation for delivering quality and reliability that other brands cannot match. There are many types of STIHL chainsaws available, but they all fit into one of the following categories:
Homeowner chainsaws: The chainsaws STIHL markets to homeowners are built using the same technology as the company's larger models. This technology includes anti-vibration handles and the QuickStop chain brake system. This system stops saw chains in a fraction of a second and springs into action at the first sign of kickback.
Farm and ranch chainsaws: These STIHL chainsaws models have been engineered specifically for cutting firewood, clearing brush and cleaning up after storms on farms and ranches. These are high-performance machines that are expected to run reliably in grueling conditions.
Professional chainsaws: Top-handle STIHL chainsaws are used by just about every logging company because they are built to last and never quit. These machines are the peak of chainsaw technology, and they are engineered to tackle the toughest jobs.
Battery-powered chainsaws: STIHL's battery-powered chainsaws are designed to work just about anywhere while still delivering the performance the company has become known for. This line includes the STIHL chainsaw mini, which is the first garden pruner to feature the cutting power of a saw chain.
Each one of these chainsaw lines includes several models and model variations, so finding the saw that's right for you can be a challenge. This is especially true with the STIHL lineup because the company has an engineering focus and does not give its products catchy names. To get to the bottom of things, you first have to decipher a seemingly incomprehensible series of letters and numbers. Let's do that now:
MS, MSA and MSE: All STIHL chainsaw model names begin with either MS, MSA or MSE. MS is short for Motorsäge, which is the German word for chainsaw. MSA denotes a battery-powered chainsaw, and MSE tells you that the saw has an electric rather than a gas motor.
Numbers: STIHL has not divulged what the numbers in its model descriptions mean, but larger numbers generally denote machines with more powerful motors and larger fuel capacities.
B: This letter in a STIHL product name reveals that the chainsaw has a chain that can be adjusted without using a tool.
C: This letter in a STIHL product number indicates that the model has comfort features like an ergonomic design or anti-vibration system.
E: STIHL chainsaws that feature the company's Easy2Start system have an E in their product numbers.
M: If you see an M in a STIHL product number, you will know that the chainsaw you are looking at has the M-Tronic engine management system. This system uses a microprocessor to monitor fuel quality, temperature, elevation and air filtration, and it uses this data to maximize motor performance automatically.
Q: This is a letter that you should definitely look for in STIHL product numbers as it means the chainsaw has the QuickStop chain braking system.
R: This letter tells you that a chainsaw has STIHL's wrap handle that makes sawing in different positions a lot easier.
STIHL makes all of its saw chains in Switzerland, and some of its larger professional chainsaws are still made in Germany, but the vast majority of the STIHL saws sold in the United States are produced in the company's manufacturing facility in Virginia Beach, VA. If you would like to learn more about STIHL's diverse and growing range of products, you can find the information you seek on our main chainsaw page.
Manufacturing
STIHL's Virginia Beach manufacturing facility produces power outdoor equipment that is sold in the United States and around the world. The more than 275 products made in the factory range from professional chainsaws capable of cutting through massive tree limbs to battery-powered saws used by homeowners to trim hedges and prune fruit trees.
STIHL constantly upgrades its factories with the latest technology and is very proud of both its facilities and its workers. The company's Virginia Beach factory has been named the Assembly Plant of the Year by ASSEMBLY magazine, and photographs of assembly line workers featured prominently in STIHL's "Built in America" advertising campaign. STIHL maintains quality by making crucial components in-house, and it is the only chainsaw manufacturer that makes its own guide bars and saw chains. Commonly outsourced parts that STIHL makes itself include pistons, crankshafts and manifolds.
The Virginia Beach facility is one of the most advanced assembly plants in the world, and important processes like riveting, stamping and welding are fully automated. The 150-acre complex employs almost 2,000 people, and a $30 million administrative building opened in 2019 includes an education center for STIHL dealers with an outdoor product testing and practical training area.
Key Facts
STIHL is committed to protecting the environment and has vowed to become carbon neutral by 2050. The company's manufacturing plant in Germany is powered entirely on green energy, and power consumption at its other facilities has been drastically reduced by conservation efforts, efficiency improvements and the adoption of renewable energy sources.
Six wind turbines have been installed at STIHL's Virginia Beach campus, and 924 solar panels installed on the roof of the company's facility in Stenkullen, Sweden, generate 240,000 kilowatt-hours of electricity each year. This is enough energy to satisfy the plant's needs and provide electricity to local homes and businesses. A photovoltaic system STIHL has installed in Austria has cut the plant's annual carbon emissions by 14 tons, and industrial wastewater at the company's factory in Brazil is cleaned by an in-house water treatment plant.
STIHL also supports initiatives to protect the environment. The company supports several global environmental initiatives including One Million Trees for Borneo, the Association for Mountain Forest Projects, the Tropical Forest Institute, and Trees for La Tigra, and STHIL is the only corporate partner the National Association of State Park Directors has asked to sponsor its Leadership School.
Warranty Information
STIHL MS and MSE chainsaws are backed by a one-year limited warranty when they are used for personal or household purposes and a three-month warranty when they are used in a commercial environment. MS models with a top handle are not warrantied for personal or household use as these machines are only sold to professionals. Individuals who purchase STIHL gasoline-powered chainsaws for personal use can add an extra year to their warranties by purchasing a gallon of STIHL MotoMix premixed fuel or a six-pack of STIHL HP Ultra Oil when they purchase their machines. This extra coverage is called the STIHL Ultra Limited Warranty.
STIHL also offers its customers a no-questions-asked exchange policy. If you purchase a STIHL chainsaw and are not completely happy with it, you have seven days to return to the dealer to exchange your chainsaw for a different STIHL product. Your selling dealer is also the place you should go if you require warranty repairs.
STIHL Chainsaw Parts
If you need a STIHL chainsaws electric motor component or a any other chainsaw part, you will have to visit one of the company's authorized dealers. STIHL only releases parts, parts lists and service manuals to authorized dealers to ensure that all repairs meet the company's strict quality standards. This would be a problem if dealers were few and far between, but STIHL has more than 10,000 of them in the United States alone.
Check Out More STIHL Content From Chainsaw Selector
If you would like to know more about STIHL chainsaws cordless models and how they stack up against other products or want to find a STIHL chainsaws sale, we have the information you are looking for. When you visit our content hub, you will find product reviews and roundups, information about recalls and new releases and links that can save you money when you buy your next chainsaw.
STIHL Product Reviews
You can't really go wrong if you buy a STIHL chainsaw unless you choose the wrong model. Our reviews can stop that from happening by telling you everything you need to know before you click a "buy now" or "add to cart" button. One of our reviews will tell you what kind of features a chainsaw has and how easy they are to use, and it will also compare the machine being reviewed to similar models from other manufacturers so that you will be able to see at a glance which one is best. We finish our reviews by letting you know what people are saying about the chainsaw being reviewed and compiling a comprehensive list of its pros and cons.
STIHL Product Roundups
Reviews are great if you have narrowed down your choices, but they are a little too focused if you have just started looking at chainsaws. If that's the position you are in, our product roundups are what you should look for. These are collections of mini reviews that provide the information you will need to whittle down your shopping list, and they are very easy to read. Each mini review covers key features, includes a specification table, and finishes up with a brief list of pros and cons.
STIHL Press Releases
STIHL makes almost 300 chainsaws and power tools, and keeping track of them all can be hard. If that sounds like a chore you would rather avoid, you will be happy to learn that our press release pages take care of it for you. This is where you will find out about new product announcements and improvements made to existing products, and it's also the place to go to find out about STIHL incentives and rebate programs.
STIHL Recalls
Products as thoroughly researched and solidly built as STIHL chainsaws are not recalled very often, but you can count on us to let you know right away when they are. When we cover a manufacturer recall, we let you know which products are covered, the problem they are having and what is being done to rectify the problem. If you buy a STIHL chainsaw and it is recalled, the needed repair will probably be performed by an authorized dealer at no charge.
Where To Buy
If you have read our roundups and reviews and know which STIHL chainsaw you want, we can help you to find the best deal. We keep track of prices all over the internet, and we only recommend retailers that have great customer service as well as attractive prices. If you know what you want and are ready to buy, here are a few links to places that probably have the chainsaw you want in stock for immediate shipment:
Similar Brands
STIHL is the world's leading chainsaw brand because its machines are incredibly tough and powerful, but there are other options out there. If you would prefer to save some money on a saw with a few less features, here are some other chainsaw manufacturers that you may want to consider:
DeWalt
Craftsman
Echo
Homelite
Husqvarna
Makita
Milwaukee Tool
Poulan
Ryobi
Online Presence
STIHL has a website that is packed with useful information, and the company is also active on most of the popular social media platforms. If you want to do some research into the company and its products, here are some links that you will probably find useful:
Contact Information
STIHL deals mainly with its authorized dealers and leaves day-to-day customer service issues up to them. That being said, the company does offer consumers a couple of contact options. Calling the main customer service phone number is the most popular contact method, and you won't have to worry about memorizing a phone number because all you have to do is dial 800 and then spell out GO-STIHL. Here are three ways to get answers from STIHL: