Electric chainsaws may not be as powerful as larger gas-powered models, but they can be just as dangerous. Saws that are designed to make short work of branches and small logs will cut through human tissue with ease. When people fail to take necessary precautions, they may end up in an emergency room. The legs and knees are the body parts most often injured in chainsaw accidents, so clothing that protects these vulnerable areas should be worn by all chainsaw operators.
These garments are called chainsaw chaps or chainsaw pants, and they are extremely effective. They work in a similar way to the reactive armor plating that is fitted to modern military vehicles. Instead of stopping or deflecting rockets or shells, these plates absorb the energy of incoming projectiles to limit the amount of damage they do. Chainsaw chaps and pants do not provide a layer of armor that saws cannot penetrate. Instead, they're made of materials that have been engineered to clog up chainsaw mechanisms and bring them to a stop almost immediately.
Electric chainsaw users who purchase protective pants or chaps are often surprised when they read the manufacturer's instructions. This is because companies like Stihl tell their customers that many electric chainsaws will continue to run even after coming into contact with protective chaps. This post will examine that statement to see if it is something that homeowners or trades professionals who use electric chainsaws need to worry about. We will also look at how chainsaw chaps are made and how they work.
Why Chainsaw Chaps Are Important
According to figures from the CDC, American hospitals treat about 36,000 chainsaw accident victims each year. Deep lacerations to the legs and thighs are the most commonly treated injuries. Chainsaws are powerful tools that can be extremely dangerous in unskilled hands, and even professionals with decades of experience can find them impossible to control in certain situations.
Kickback
Kickback is the term used to describe the sudden movement a chainsaw makes when its chain strikes an object, gets snagged, or encounters substantially increased resistance. The chainsaw's engine is still powering the chain, but the chain's progress is impeded. This causes energy to build up, and the saw to kick back violently. Kickback is inevitable when cutting through wood as the density and consistency of the material will vary, and not every nail and screw will be found during visual inspections.
Spring Poles
Chainsaws can also move violently and without warning when they cut through what is known as "spring poles." These are small trees or branches that have become caught on other objects after being bent or twisted by high winds. When they are cut, pent-up energy is released, and chainsaws become uncontrollable. Precautions may be taken to avoid this situation, but there is no way to prevent the sudden release of energy that occurs when a spring pole is cut.
How Chainsaw Chaps Are Made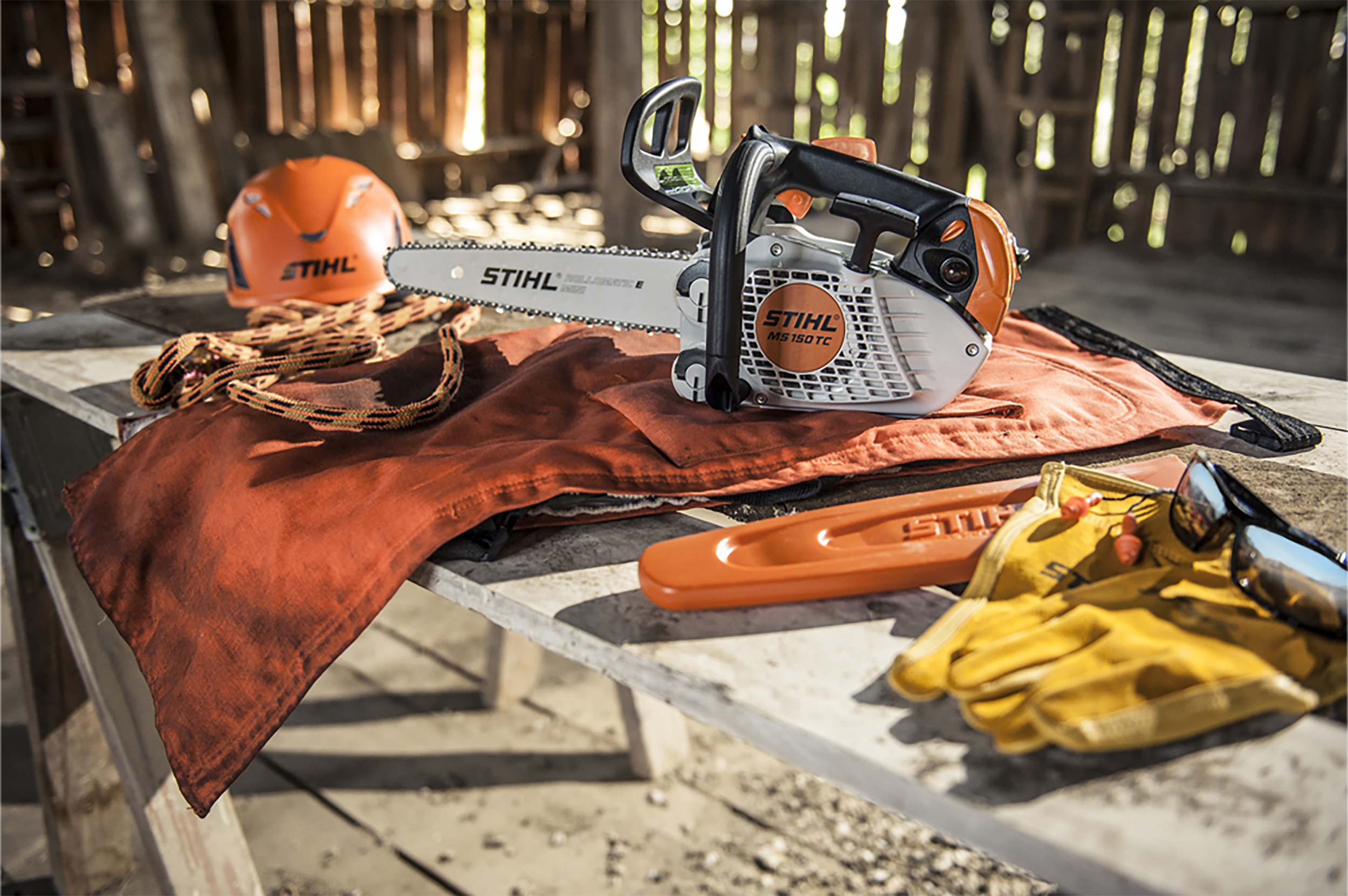 Medieval castles had multiple walls to thwart attacking armies, and parents bundled their children up in layers of warm clothing on cold winter days. Chainsaw safety gear manufacturers took the same approach when they developed leg protection. Chainsaw chaps are made up of several layers that protect in different ways. Let's take a closer look at those layers:
The outer layer: The first layer of protection is usually a tough polyester material that is durable, flexible, and resists oil and water. This layer won't stop a chainsaw, but it will provide adequate protection against flying stones and wood chips.
The core: This layer is what gives chainsaw chaps their saw-stopping capabilities. It is made up of multiple layers of dense Kevlar or ballistic nylon fibers that come apart as soon as they come into contact with a chainsaw. When they come apart, they become long threads of material that instantly clog up chainsaw mechanisms and stop chains in their tracks.
The base layer: The final layer of protection that chainsaw chaps offer is provided by cut-resistant material that is designed to withstand chains that have not been completely stopped by the core layer.
The Electric Chainsaw Chaps Controversy
If chainsaw chaps are made out of such advanced materials and provide so much protection, why do many manufacturers refuse to certify their chaps for use with electric chainsaws? Surely, a moving chain is a moving chain regardless of the power source. Manufacturers put dire warnings on their packaging because they do not want to be sued for promising protection that their products did not provide, but that does not mean their products provide no protection at all. Chainsaw chaps would likely prevent even the most powerful electric chainsaws from causing serious injury, but they work even better at stopping gas-powered saws. This is because gas engines and electric motors do not deliver power in the same way.
Load, Torque, and Clutches
Chainsaws with gas engines have clutches that engage the chain. When the chain encounters the ballistic nylon or Kevlar in chainsaw chaps, the fiber threads that are created force their way into every nook and cranny and often cause the clutch to disengage. This deprives the chain of power and makes it much easier to stop. Electric motors are direct drive units that do not use clutches, so there is nothing to disengage.
It is not just the lack of a clutch that makes stopping an electric saw chain more difficult. The way that gas and electric motors handle increased loads can also impact the effectiveness of protective chaps. When the load on a gas engine increases, its revolutions per minute and the amount of torque it produces will decrease. When electric motors experience higher loads, revolutions per minute decrease, but more torque is produced. This means the added resistance of chainsaw chaps can make electric saws work even harder. If you read manufacturers' warnings about wearing chaps while using an electric chainsaw, you will notice that they all mention excessive torque.
Sale
Bestseller No. 1
WEN 4017 Electric Chainsaw, 16"
12A motor rotates the chain at up to 44 feet per second
Lightweight design limits fatigue to the user
Auto-oiling system lubricates itself to elongate the saw's lifespan
Tool-free chain changes make for easy and fast chain replacement
Requires no gasoline for emission-free operation
Sale
Bestseller No. 2
Oregon CS1400 15 Amp Electric Chainsaw, Powerful Corded Electric Saw with 16-Inch Guide Bar & ControlCut Saw Chain, Quiet & Low Kickback, 2-Year Warranty by Oregon (603348)
Powerful performance: 15 amp electric chainsaw with integrated chain brake. Ideal saw for professionals and homeowners who cut wood in harsh environments. Low vibration, low kickback saw
ControlCut Saw Chain: This Oregon chainsaw comes with a low maintenance chain included, which produces a smooth cut every time and stays sharper for longer
Clever design: 16in chainsaw with built-in chain tightening system doesn't require any tools. Other features include oil level window and front hand guard to protect from flying debris. Silent between cuts
Automatic oiler: The automatic oiler distributes oil on the bar and chain while on the saw, keeping your chainsaw lubricated and preventing premature wear
Ergonomic: Lightweight and balanced, low vibration, over-mold comfortable handle. 2 year warranty included. Includes 1 x electric chainsaw, 16 inch guide bar and chain
Sale
Bestseller No. 3
CRAFTSMAN (CMECS600)Electric Chainsaw, 16-Inch, 12-Amp ,Red
POWERFUL MOTOR: 12-Amp motor of corded electric chainsaw helps with tough cuts
LOW KICKBACK: This electric chainsaw features a 16-inch low kickback bar and chain
AUTO-OILING: Built-in oil window and no priming required
TOOL-FREE CHAIN TENSIONING: Easy to adjust chain for ideal cutting performance
3 Year Limited Warranty, refer to "Warranty & Support" section below for full details
What Does All of This Mean in the Real World?
Chaps may not stop electric chainsaws as effectively as they stop gas-powered chainsaws, but do they still provide meaningful protection? To find out, a popular YouTube outdoor equipment channel put some chaps to the test. The presenter laid the chaps on a log about the size of a human leg, and he then attempted to cut through the protective material with two electric chainsaws.
The first saw used was a 40-volt battery-powered model. The chap stopped the chain almost immediately, but the saw was able to get through the core and make a small cut in the base layer. However, an inspection of the log revealed no damage, so a human being would have escaped unscathed. The second chainsaw tested was a more powerful corded model. The chap was able to stop the chain, but it took several seconds. The core layer was completely destroyed, but it managed to slow down the chain enough to prevent serious injury.
Other tests have produced similar results, so the evidence seems to be pretty clear. Chaps provide a great deal of protection to chainsaw users and could help them to avoid serious injury or death even if their tools are powered by electricity instead of gas.
How to Choose the Best Chainsaw Chaps
Chainsaw safety gear can prevent tragedies, but how can you be expected to choose from a baffling array of choices when every manufacturer says their chaps are the best? These protective garments may often look the same, but reading their product labels can reveal some important differences. Let's take a look at some of the factors you should consider when shopping for chaps.
Apron or pants: There are two basic types of chainsaw chaps. Apron chaps, which are also called type A chaps, are worn over pants and only protect the front of the leg. They should only be worn by standing operators. Type B chaps are also called chainsaw pants, and they are worn instead of trousers and protect the entire leg. These chaps are worn by people who use chainsaws while on ladders.
Safety ratings: The fabric used to make chainsaw chaps is classified based on how effectively it stops chains. Class 0 fabric is the weakest and can only stop chains moving at a speed of up to 16 meters per second. That speed rating rises to 20 meters per second for Class 1 fabrics, 24 meters per second for Class 2 fabrics, and 28 meters per second for Class 3 fabrics. Chainsaw chaps are regularly tested by OSHA and UL to make sure that their fabrics meet these standards.
Features: Safety is not the only benefit that chainsaw chaps offer. They resist oil and water, and they are available in bright colors to improve visibility. Some chaps even have pockets that can be handy places to store chainsaw tools and accessories.
Choosing the Right Size
Chainsaw chaps provide the most protection when they fit well. Chaps that are excessively loose or too big could impede movement or slip out of the way at a crucial moment, and chaps that are too small may not cover all of the body parts that need protection. Finding chaps that fit around the waist should not be a problem because most of them have waistbands that can expand from 28″ to 42″, but picking a pair of chainsaw pants or chaps that are the right length can be a challenge.
This is because some manufacturers base their sizing on inseam lengths and others use full-length measurements. Read labels carefully to avoid confusion, and know what both of your leg measurements are before you buy. If you can't find the ideal length, lean toward chaps that are too short rather than too long because long chaps are a tripping hazard.
Type A or apron-style chainsaw chaps do not hang loosely. Instead, they have leg and waist straps that can be loosened or tightened. This allows chainsaw chaps to be worn over several layers of clothing in cold weather. Look for chaps that have waist and leg straps with sturdy buckles, and avoid Velcro at all costs.
Safety First
Chainsaw chaps or pants might not be as effective against electric chainsaws as they are against gas-powered models, but they are still highly effective. There are situations where chainsaws become completely uncontrollable, and having sturdy protective gear on in these situations could prevent a serious injury. ChainsawSelector regularly posts articles about chainsaw safety and accident prevention, and we also bring you in-depth product reviews and comparisons. Whether you are looking for the best deal on a new chainsaw, safety tips, or the latest industry news, ChainsawSelector has you covered.
Sale
Bestseller No. 1
Husqvarna 587160705 Tech Technical Apron Chap, 40 to 42-Inch, Orange
1000 Denier Polyester with PVC coating with Tek Warp Protective Layers
Adjustable Waist Size to 42 Inches
Felling Wedge/Gear Pocket and Acetal Delrin Buckles. Wash in cold water mild detergent and hang to dry. Never use chlorine bleach
Meets ASTM F1897, ANSI Z133.1 and OSHA Regulation 1910-266
UL Certified
Sale
Bestseller No. 2
Technical Wrap Chainsaw Chaps by UL Class A 8 Layers Chainsaw Pants Apron Style Orange Black
[Official Certification] Classified by UL,each chainsaw pants or chap meet ASTM F1897-20 and additional standard ASTM F3325-20. OSHA Regulation 1910-266.
[Safety Protection] We use effective 8 layers fabric (Sweden Technology)in our logger chaps and pants for chainsaw works,6 layers anti-cutting fabric and 2 layers cushioning.
[Premium Material] Outer fabric on our chainsaw chaps made by 1050D pure Polyester with PU coated-technical,durable and tougher. All our chaps use the Buckles from YKK or ITW,and Reflective stripe from 3M .
[Multifunctional] Two tactical pockets on our chainsaw chaps easily load your mobile phones, wallet and some tools used for logging. Reflective stripe on the logger chaps and pants offers an extra protection to the loggers who need work in the darkness.
[Updated Standard and Size Options] Each of chainsaw chaps meets the newest standard of 2020 year(NOT 2014). Two optional sizes for loggers and foresters,40-42 inch(9Large) and 36-38 inch(Medium) .Fixed most men and women.
Sale
Bestseller No. 3
Notch Apron Style Chainsaw Chaps - Large (CCHAPR-L)
New Notch Apron Style Chainsaw Chaps offers ankle to crotch (Type A) chainsaw frontal protection in a High-Vis Safety Orange color with a left front velcro wedge pocket. Large Size: 36" length (measured from top of waistband)
UL certified ASTM F1897-20 standard and meets OSHA 1910-266 leg protection standard
Technical lightweight 5 layer chain stopping protective material poly/polypropylene blend with a rugged and durable 100% Polyester 600D Oxford Shell. Water and oil resistant
Adjustable 2" waist belt fits 28" to 48" waist sizes with 1" adjustable leg straps with quick snap fasteners. Optional folding waistband with buttons
Washing Instructions: Hand wash only, Hang to dry, Do not use bleach or harsh detergent